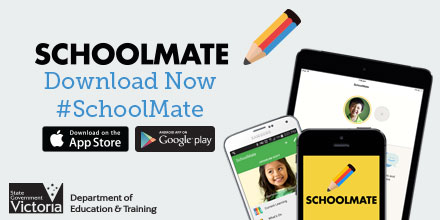 SCHOOLMATE  APP
Victoria's Department of Education and Training has released a new app that is designed to help parents become more engaged in their child's education.
SchoolMate provides parents with a roadmap to help aid their child's learning at home and at school. It:
shows parents what their children are learning in each subject, at each year level according to the Victorian curriculum (AusVELS)
provides parents with tips for helping their child in the best way possible
suggests apps, books, events and activities related to each subject area and year level.
SchoolMate was created by the Department with input from the Victorian Curriculum and Assessment Authority and Victoria's professional teaching associations including:
Victorian Association for the Teaching of English
School Sport Victoria
Australian Council for Health, Physical Education and Recreation
Geography Teachers' Association of Victoria
Science Teachers' Association of Victoria
History Teachers' Association of Victoria
Digital Learning and Teaching Victoria
Mathematical Association of Victoria
SchoolMate Video https://fuse.education.vic.gov.au/pages/View.aspx?pin=8W8FGY#MoreDetailsTabhttp://